| | |
| --- | --- |
| | MicroDA |
Products > Video D.A. > MicroDA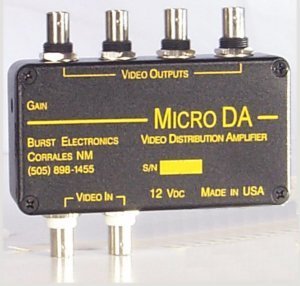 Four Output MicroDA
The four output MicroDA is a compact unit featuring a looping input. A wide bandwidth of 33 MHz assures clean video, Small enough to fit most anywhere but with no sacrifice in performance. Gain is adjustable plus or minus 3 dB. There is an internal jumper to select 75 Ohm termination, no need for an external terminator.
Specifications - MicroDA
Input: 1 volt standard video
Input Impedance: HiZ or 75 Ohms 1%, looping (jumper/switch selected)
Coupling: DC throughout
Internal Power: ± 5 Vdc derived from external 12 Volt
Outputs: Four, 75 Ohm
Output Voltage: 4 Vpp max
Delay Input to Output: 10 nS
Output Impedance: 75 Ohms 1%
Frequency Response: DC to 33 MHz 0.2 dB
Gain: Unity, adjustable ± 3 dB
S/N: 68 dB
Diff Gain: 0.03%
Diff Phase: 0.05 deg
Video Connector: BNC
Output Protection: Open or Short, infinite duration
Size: 4.4 W x 2.4 H x 1.3 D inches.
DC Powered: 11-14 Vdc (see chart for current requirements)
Wall module (included): 120 VAC 60 Hz, 12 Vdc 500 mA, UL Listed
Warranty: Two Years Parts and Labor

Return to
home page