| | |
| --- | --- |
| | SG-2 Video Generator |
Products > Video Generators > SG-2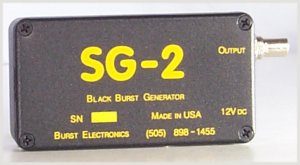 Single Output Black Burst Generator – 2nd Generation
The SG-2 Black Burst Generator is a single output unit. The output, which contains composite sync, color burst and 7.5 IRE setup (0 IRE in PAL) is a standard 1 Volt Video signal. The SG-2 is used to drive Genlock inputs, laydown "black" on tape, or feed a DA to distribute house black.
Second Generation: A redesign of one of our best sellers. Now the waveform is digitally generated under microprocessor control, providing precise purity.
Options: Y/C (S-video/S-VHS/Hi8), PAL.
Specifications - SG-2 Video Generator
Output: 1 volt standard video NTSC (PAL)
Output Impedance: 75 Ohms 1%
Sync Tip: -40 IRE
Burst: +/-20 IRE, 3.579545 MHz (PAL: 4.433619 MHz)
Setup: 7.5 IRE NTSC (0 IRE PAL)
Video Output Connector: BNC (Y/C: 4 pin MiniDIN)
Output Protection: Open or Short, infinite duration
Dimensions: 4.4W x 2.4H x 1.3D (inches)
Wall module (included): 120 Vac 60 Hz, 12 Vdc 500 mA, UL listed
DC Powered: 11-18 Vdc
Warranty: Two Years Parts and Labor

Return to
home page