| | |
| --- | --- |
| | SG-3 / SG-7 Video Generators |
Products > Video Generators > SG-3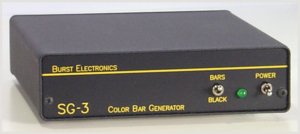 SMPTE Color Bars, ID and Black Burst Generators
The SG-3 SMPTE Color Bar/Black Burst Generator is a low cost unit that produces the SMPTE Color Bar pattern and black burst. A front panel switch selects either Bars or Black for the output. ID option available on both black and bars output.
Options: Y/C (S-video/S-VHS/Hi8), ID, 1 kHz tone, Rack mount.
Download SG-3/7 manual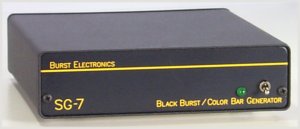 The SG-7 Generator outputs SMPTE Color Bars and 6 outputs of black burst simultaneously. An ID option is available on the bars output. NTSC only, not available in PAL.
Options: ID, 1 kHz tone, Rack mount.
Download SG-3/7 manual
Specifications - SG-3 Video Generator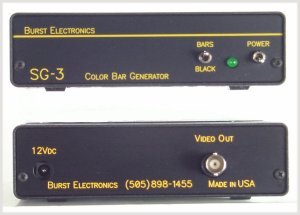 Output: 1 volt standard video 75 Ohms 1%
Sync at -40 IRE
Burst at +/-20 IRE (3.579545 MHz NTSC, 4.433619 MHz PAL)
Setup: 7.5 IRE NTSC (0 IRE PAL)
Fully saturated 75% bars (gray, yellow, cyan, green, magenta, red, blue, black)
12 Vdc, center positive (optional 5 Vdc)
Tone 1 kHz (0dB unbalanced phono jack, +4dB balanced miniXLR)
Dimensions: 5.6W x 1.5H x 7.3D (inches)
Wall module (included): 120 Vac 60 Hz, 12 Vdc 500 mA, UL listed
or 100-240 Vac 50/60 Hz, 5 Vdc 1A, UL listed.
Warranty: Two Years Parts and Labor
Specifications - SG-7 Video Generator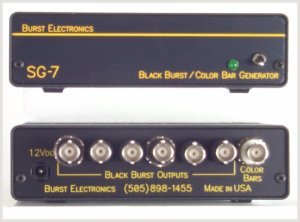 Video Output:
Output: 1 volt standard video NTSC
Output Impedance: 75 Ohms 1%
Sync Tip: -40 IRE
Black Burst: Sync, Color Burst and 7.5 IRE Setup
Burst: +/-20 IRE, 3.579545 MHz
Setup: 7.5 IRE NTSC
Video Output Connector: BNC
Output Protection: Open or Short, infinite duration
SMPTE Color Bars:
Sync at -40 IRE
Burst at +/- 20 IRE (3.579545 MHz)
Setup at 7.5 IRE
Fully saturated 75% bars (gray, yellow, cyan, green, magenta, red, blue)
Reverse blue bars (blue, black, magenta, black, cyan, black, gray)
100 IRE white bar
-I and +Q signals
Pluge pulse signal:
Whiter than black at 11.5 IRE
Black at 7.5 IRE
Blacker than black at 3.5 IRE

Optional Audio Output:
Unbalanced RCA (1 kHz, 0 dBm, 1% THD)
Balanced MiniXLR (1 kHz, +4 dBm, 1% THD)
Dimensions: 5.6W x 1.5H x 7.3D (inches)
Wall module (included): 120 Vac 60 Hz, 12 Vdc 500 mA, UL Listed
DC Powered: 11-18 Vdc
Warranty: Two Years Parts and Labor

Return to
home page