| | |
| --- | --- |
| | VDA-2EQ |
Products > Video D.A. > MicroDA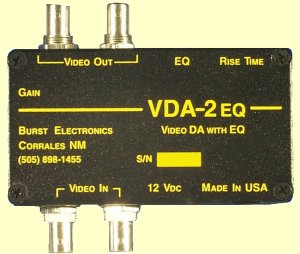 Two Output MicroDA with EQ
The two output VDA-2EQ is a compact unit featuring a looping input. EQ and Rise Time adjustments allow for up to 1000 feet of RG59 cable. Small enough to fit most anywhere but with no sacrifice in performance. There is an internal jumper to select 75 Ohm termination, no need for an external terminator.
Specifications - VDA-2EQ
Input: 1 volt standard video
Input Impedance: HiZ or 75 Ohms 1%, looping (jumper/switch selected)
Coupling: DC throughout
Internal Power: ± 5 Vdc derived from external 12 Volt
Outputs: Two, 75 Ohm
Output Voltage: 4 Vpp max
Delay Input to Output: 10 nS
Output Impedance: 75 Ohms 1%
Frequency Response: DC to 33 MHz 0.2 dB
Gain: Unity, adjustable ± 3 dB
S/N: 68 dB
Diff Gain: 0.03%
Diff Phase: 0.05 deg
Video Connector: BNC
Output Protection: Open or Short, infinite duration
Size: 4.4 W x 2.4 H x 1.3 D inches.
DC Powered: 11-14 Vdc (see chart for current requirements)
Wall module (included): 120 VAC 60 Hz, 12 Vdc 500 mA, UL Listed
Warranty: Two Years Parts and Labor

Return to
home page