| | |
| --- | --- |
| | VDA-4PC (discontinued) |
Products > Video D.A. > VDA-4PC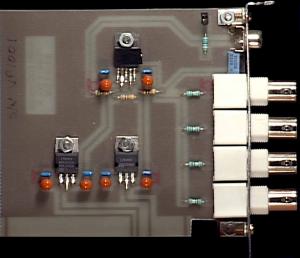 Model VDA-4PC
Four Output DA Card
This model has been discontinued.
The Model VDA4-PC is a video distribution card for the IBM style PC. The VDA4-PC has one input and four buffered outputs. The input has a selectable 75 Ohm jumper. Wide bandwidth and low differential gain and phase assure clean video. (No loop-thru.)
Follow $ symbols to price list.
Specifications - VDA-4PC
Input: 1 volt standard video
Input Impedance: HiZ or 75 Ohms 1%, looping (jumper/switch selected)
Coupling: DC throughout
Internal Power: ± 5 Vdc derived from external 12 Volt
Outputs: Eight, 75 Ohm
Output Voltage: 4 Vpp max
Delay Input to Output: 10 nS
Output Impedance: 75 Ohms 1%
Frequency Response: DC to 33 MHz 0.2 dB
Gain: Unity, adjustable ± 3 dB
S/N: 68 dB
Diff Gain: 0.03%
Diff Phase: 0.05 deg
Video Connector: BNC
Output Protection: Open or Short, infinite duration
Warranty: Two Years Parts and Labor

Return to
home page