| | |
| --- | --- |
| | VDS |
Products > Loss of Video Detectors > VDS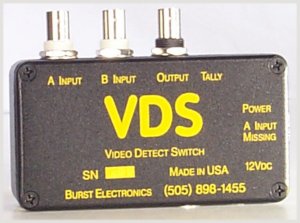 Loss of Video Detector
The Burst Electronics Model VDS (and the VDS-3, a 3 channel version) detects the presence of composite video at its A input and outputs this video. If loss of video on the A input is detected, then the unit switches to the B input, lights a Red LED (VDS only), and energizes an internal "tally" relay (standard on VDS and VSA, optional on VDS-3). This relay may be used to control external devices. The tally relay has both normally closed and normally open contacts (Form C relay). The Model VSA includes stereo audio switching, audio follow video.
The video detection process utilizes a sophisticated sync separator circuit and a micro controller IC to analyze the A input. The composite sync tip amplitude, vertical sync, horizontal sync, and frame pulse are all analyzed by the micro controller to determine the quality of the incoming video on the A input.
The frame test allows progressive scan video signals (blue screen) and VCR search and pause modes to be detected as bad video.
Options available: PAL.
Specifications - VDS
Video detect: Sync tip, vertical sync, and frame pulse (selectable) of A input
Sync Detect Level: -5 to -30 IRE, adjustable
Delay: 0.1 seconds
Indicator: LED for A input
Input/Output: 1 Volt standard video
Input Impedance: HiZ or 75 Ohms 1%, looping (jumper/switch selected)
Output Impedance: 75 Ohms 1%
Video Connector: BNC
Tally Connector: 4 pin MiniDIN
Dimensions: 4.4 W x 1.2 H x 2.4 D (inches)
DC Powered: 11-14 Vdc (see chart for current requirements)
Wall module (included): 120 VAC 60 Hz, 12 Vdc 500 mA, UL Listed
Warranty: Two Years Parts and Labor

Return to
home page