| | |
| --- | --- |
| | DV-2 |
Products > Digital Video > DV-2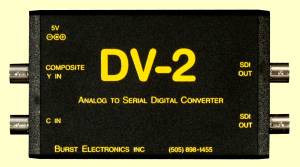 Analog to Serial Digital Converter
The Model DV-2 converts Analog video (either composite or Y/C) to Serial Digital video. There are two SDI outputs. $
Second generation: New design with lower jitter and better noise immunity. Capable satellite performer.
DV-2 Features
CVS or YC inputs
Adaptive 4-line comb filter
Dual 800 mv SMPTE 259M Outputs
Input anti-aliasing filter for satellite feeds
Dip-Switch Selectable Pedestal
Built-in SDI Full-Field Colorbars
Pathological Test Generator
Crystal PPL yields < 450 ps output jitter
Automatically senses PAL/NTSC inputs
Freq Response ±0.25dB to 5 MHz
Diff gain - 1.5%; Diff phase - 1.5 degrees
Dimensions: 2.8W x 0.8H x 4.5D (inches)
Input power 5 VDC - overvoltage/reverse voltage protected
Power Supply included
Follow $ symbols to price list.
Warranty: Two Years Parts and Labor

Return to
home page