| | |
| --- | --- |
| | HDA4 & HDSR |
Products > Digital Video > HDA4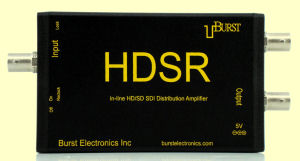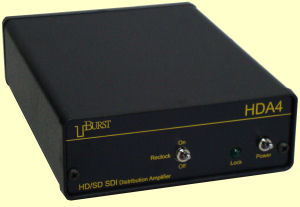 Model HDA4 & HDSR
HD/SD SDI Distribution Amplifiers
The HDA4 and HDSR are studio quality HD/SD SDI 1x4 and 1x2 (respectively) distribution amplifiers with equalized input and selectable reclocked/non-reclocked outputs.
Each output can drive up to 330 feet (100 meters) of HD/SD SDI with embedded audio (Belden 1694). A front panel switch selects between reclocked and non-reclocked outputs. The outputs are unity to 100 meters/330 feet.
The enclosure of the HDA4 is small enough that up to four (4) units can fit on a single 1RU rail (RM-4).
The enclosure of the HDSR is designed to be placed in-line with long cable runs, but it can also be rack mounted with up to six (6) units on a single 1RU rail (RM-6-2).
An external 5Vdc power supply is included (120Vac – 5Vdc @ 1A)
Specifications
Standards: SMPTE 292M/259M (NTSC 480i; PAL 576i; 720p59.94; 1080i50/59.94)
Level: 800mv p-p
Impedance: 75 ohm terminating
Equalization: Automatic up to 100m @ 1.5GHz using Belden 1694
Input
• Number: HDA4 – 1 (HDSR – 1)
• Connectors: BNC
• Level: 20-800mv p-p
• Freq. Range: 143Mbps to 1.5Gbps inclusive

Outputs
• Number: HDA4 – 4 (HDSR – 2)
• Connectors: BNC
• Level: 800mv p-p
• Processing: Re-clocked outputs
• Freq. Range: 143Mbps to 1.5Gbps inclusive
• Impedance: 75 ohm

Latency: None
Output Jitter: 0.2UI (expected)
Front Panel Control Functions:
• Switch 1: Power ON/OFF (HDSR – N/A)
• Switch 2: Reclocked/Non-Reclocked

Indicators:
• Number: 1
• Signal present: On (signal present), Off (no signal)

General:
Size: HDA4 – 4.2W x 1.5H x 5.5D inches (HDSR – 2.8W x 1.3H x 4.2D inches)

Power: 5 Vdc power supply (included):100-240 VAC 50-60 Hz, 5 Vdc 1.0 A, UL Listed

Environmental:
• Operation temperature: 0C to +40C
• Storage temperature: -40C to +85C
• Relative Humidity: 5% to 95% RH (non-condensing)

Rack Mount: Optional (HDA-4 compatible with RM4, RM334, RM344, RM432)
(HDSR compatible with RM6-2)

Return to
home page