| | |
| --- | --- |
| | VS8x1 |
Products > Video Switchers > VS8x1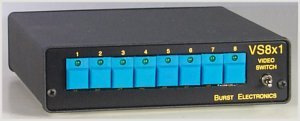 Model VS8x1
Eight Input Active Switcher with Dual Outputs
The VS8x1 is a eight input, dual output vertical interval video switcher. Specifications are the same as Model VS4x1. Second output to drive monitor, etc. $
Options: Rack mount, Model D keyboard remote (contact closure).
Model VS8x1R: Includes RS232 remote control input

The VS8x1R is RS232 controlled via PC. A proprietary cable/adapter interface is included to allow connection between the switcher and your PC - see
adapter drawing
. Any terminal emulator (i.e.. Windows HyperTerminal, ProComm) is all that is required to communicate with the switcher.
Model VS8x1RC: Used with the RC8x1 (below)

The VS8x1RC uses the RC8x1 Remote Controller. A cabling kit and wiring diagram is included so the end-user/installer can create an interface of up to 25 feet. Red, Green and Orange colored filters are also included for the illuminated pushbuttons of the RC8x1.
Model VS8x1T: Includes DTMF remote control input
Follow $ symbols to price list.

Model RC8x1
Remote Control Unit for VS8x1RC
The RC8x1 is a remote control unit for the VS8x1RC. Illuminated switches with brightness control. The RC8x1 derives its power from the VS8x1RC. $
Option: Rack mount
Specifications - VS8x1 and VS8x1R/T/RC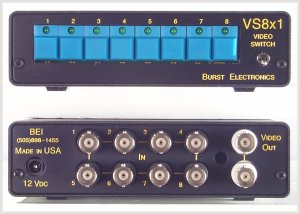 Input/Output: 1 Volt standard video
Input Impedance: HiZ or 75 Ohms 1%, looping (jumper/switch selected)
Output Impedance: 75 Ohms 1%
Video Connector: BNC
Output Protection: Open or Short, infinite duration


Video Standard: Both NTSC and PAL
Gain: Unity
Bandwidth: 25 MHz @ 1 dB
Diff Gain: 0.1%
Diff Phase: 0.1 deg
S/N: 60 dB
Crosstalk: 60 dB
Switching: Vertical Interval
Dimensions: 5.6W x 1.5H x 7.3D (inches)

DC Powered: 11-14 Vdc (see chart for current requirements) Wall module (included): 120 VAC 60 Hz, 12 Vdc 500 mA, UL Listed
Warranty: Two Years Parts and Labor


Return to
home page