| | |
| --- | --- |
| | AS4x1 Audio Switcher |
Products > Audio Switchers > AS4x1/AS4x1R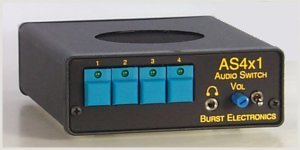 4x1 Audio Switcher
The AS4x1 is a four stereo input, one stereo output audio switcher. The AS4x1 includes an internal monitor amp and speaker. The monitor amp can drive external headphones or stereo speakers. There is also a peak LED indicator for each channel to guard against input overload. The 50 kHz bandwidth and 85 dB S/N assures clean audio. The inputs and outputs are unbalanced line level type with phono (RCA) connectors. Can be slaved with the VS4x1 Video Switcher to allow audio follow video and breakaway switching. RS-232 remote control option (2400 bps, 8N1).
Warranty: Two Years Parts and Labor
Options: Rack mount, Model KB keyboard remote (contact closure). Model AS4x1R includes RS-232 remote control.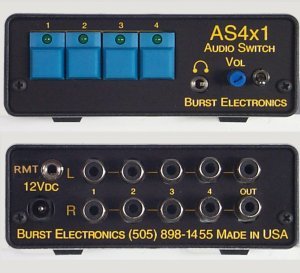 Specifications - AS4x1
Audio
All spec ref 0 dB (0.77 Vac)
Bandwidth:
10 Hz to 40 kHz
2 Hz to 70 kHz
± 0.25 dB
± 3 dB
THD:
0.03% @ 20 Hz
0.03% @ 1 kHz
0.15% @ 20 kHz
S/N: 85 dB/100 dBA
Crosstalk: 60 dB
Headroom: +12 dB (3.1 Vac)
Peak Detector: Factory set to +12 dB
Input Impedance: 100 kOhm
Output Impedance: 100 kOhm
General
Audio Connector: Phono (RCA)
Internal Speaker: 3 inch
Headphone/External Spkr Connector: 3.5 mm Stereo, Tip: Left
Size: 4.2W x 1.5H x 5.5D inches
Power: 8 to 14 Vdc 30 mA quiescent, 200 mA max, polarity insensitive
Wall Module Power Supply Included
Rack mount available, holds four units side by side. Model RM4.
RS232 (Model AS4x1R)
Data: 2400 Baud 8N1, listen only
Connector: 3.5 mm headphone style connector - see adapter drawing

Return to
home page